Loaded Panini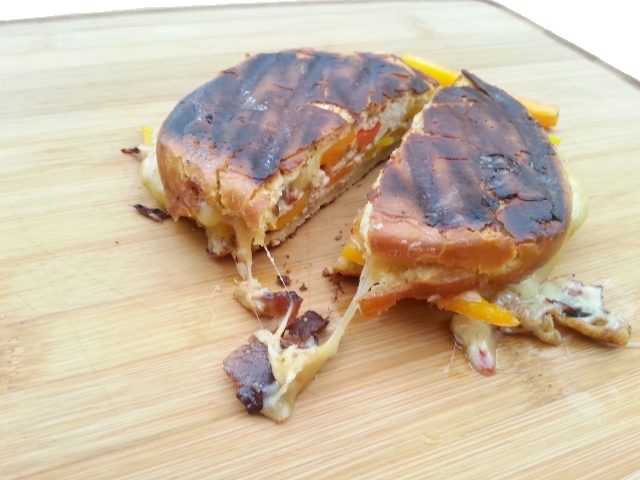 When I saw the first late night commercials for the George Foreman grill I thought to myself, "what a joke, come one George". But as things played out and my kids curiosity grew for all things grilled, fried, or fast, I found one of these ridiculous contraptions in my kitchen. At some point one evening while no one was looking, I pulled the thing out to see what it would do to a grilled cheese sandwich. Fast forwad a few years and we've worn out a few of the, as-seen-on-tv sandwich making machines, and I'm still dreaming up things to stick under the lid of George's ingenious device. We even employ a Foreman grill on the fishing vessel GOOD NEWS, as our cheif source of warm meals on long days at sea when we just can't make landfall before dinner.
I suspect the $450 Willamiam-Sonoma panini press would work for this recipe, but we're sticking with Big George on this one.
Ingredients
1- 8oz. pouch of GOOD NEWS TUNA ©
Pub rolls or a good hearty bread of your choice (we opted for a onion roll on this one)
1/2 cup Sweet pepper Julienne or Diced
2 slices of your favorite cheese for each Panini (Spicy Gouda should should be Outlawed!)
4 pieces of crispy Bacon
1 Tbsp Olive Oil
2 Tbsp Balsamic Vinegar
Salt & Pepper to taste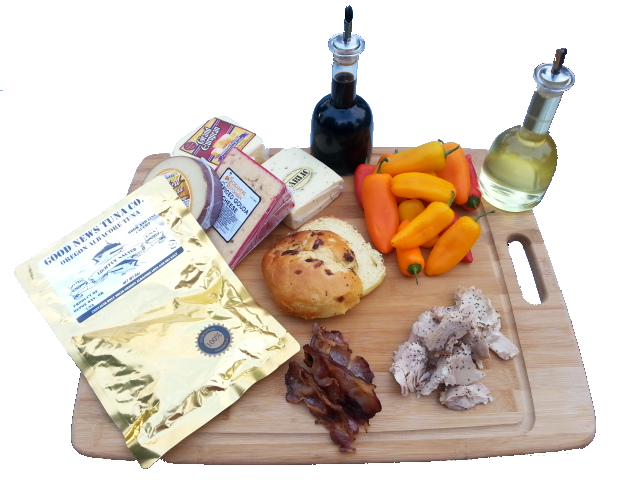 Assembly
Crumble Tuna and Bacon in a medium bowl
Add Peppers and oil & vinegar
Pile the mixture between the the cheese, close the lid wait....