Premium Canned Albacore Tuna
5 YEAR SHELF LIFE, NO REFRIGERATION NEEDED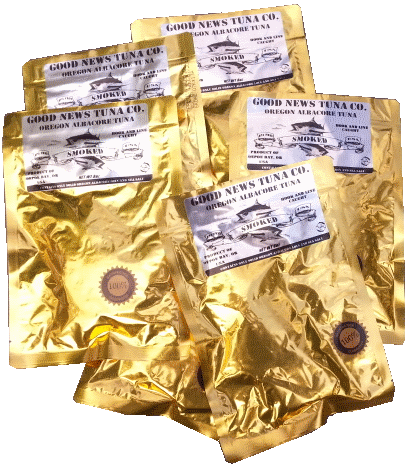 As soon as you taste Good News Tuna you will notice the difference. Solid, moist, white Albacore hand packed in BPA Free pouchs and cooked once to seal in and maintain all the healthy Omega3 oils and natural flavor. We never add water, broth, oils or preservative. Our Northwest Albacore are caught one at a time with hook and line. Never a net or longline so our product is 100% dolphin safe with zero bycatch. When a fish comes aboard the GOOD NEWS, it is immediately prepared and packed for the trip to your pantry. The fishing vessel GOOD NEWS is a very fast, small boat, allowing us to make day trips, instead of the usual 3-10 days most commercial boats spend on the water.
THE DIFFERENCE IS IN THE POUCH
We are excited to make the change from tin cans to the new pouch system. Just tear open a pouch and taste the difference for yourself, risk free of course. Our pouch process allows for a much reduced cooking time to ensure a safe product and also simply tastes better. Same shelf life as the old tin can, no BPA lining, and no can opener needed!
Toll Free 877-345-0032